Department Student Advisors (DSAs) are senior majors who are nominated by the departments and make themselves available to students to answer questions about the department. They know firsthand what it's like to be in the major. They are available via email and at special campus events to answer your questions.
2019-2020 DSA: Madeline Ward
WHAT MADDIE WANTS YOU TO KNOW:
The best thing about the Math department is the community! Wednesday Tea Time, the MPC, professors, and Kristen are all there to help you not only learn but also find support within the department.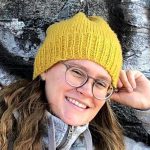 Come to Tea Time or the MPC to talk to professors and students in a less formal setting. Also, many, if not all, of the professors would be open to talk one-on-one if you email to schedule a time. That is actually what I did as a first year!
I have learned how to persevere and be proud of my accomplishments, even when my grade may not reflect that. College is hard and if you aren't cheering for your own team, it's not going to be very fun either. Be proud of what you can do and you will have motivation to do more.